It's a simple truth that you can never fully know when you will need marine services or outboard motor repair in Pompano Beach, Broward Couty, Boca Raton, or Fort Lauderdale, FL. At Reel Loco Marine Sales & Service, Inc., we make it a priority to build a relationship with each of our clients, so that when you find yourself in need of our service, we're ready with expert assistance. Our fully qualified technicians are available to assist you with all of your technical and fiberglass boat repair needs. We proficiently service all two and four-stroke outboard motors and provide engine tune-ups, engine rebuilds and everything in between, including offering boats for sale.
Our Boat Repair Services Include:
Outboard Motor Repair
Rigging & Repair
Marine Electronics Installation
Marine Electrical Repairs
Canvas & Upholstery
Bottom Painting
Full Detailing
Trailer Maintenance & Repair
Boat Pick Up & Delivery
Fiberglass Repair
Custom Wiring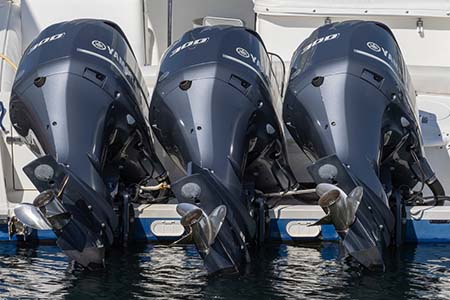 Having a properly-running outboard is essential to the maintenance and functioning of your boat. We understand that when a mechanical issue arises, you want it identified and solved as quickly and efficiently as possible. Whether you are looking for complex diagnostic services or a straightforward tune-up, we have the experience to provide unbeatable outboard repair in Pompano Beach, FL. Each of our technicians has received training and certification to repair and service motors manufactured by leading brands, including:
In addition to our extensive client work in outboard motor repair and maintenance, we provide a variety of skillful services to enhance all areas of your boat. Our specialized offerings include installing and repairing marine electronics, painting boat bottoms, rigging, detailing and more. We also provide pick-up and delivery services for added client convenience.
For more information on our fiberglass boat repair and service offerings, contact Reel Loco Marine Sales & Service, Inc. today at 954-785-8018.