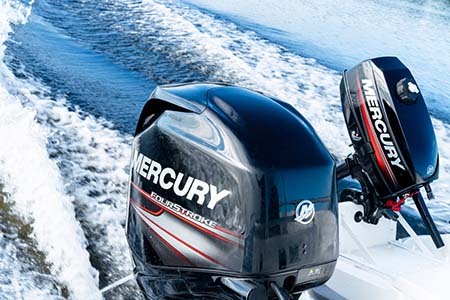 At Reel Loco Marine Sales & Service, Inc., we offer South Florida the best outboard motors on the market, and we are a proud, authorized dealer of the new Evinrude E-Tec. These engines are incredibly easy to own and operate; no need for scheduled maintenance for the first 3 years or 300 hours of normal use!
You won't need to change the engine oil or oil filter, and E-Tec outboard motors produce fewer than half of the total emissions of competitive four-strokes. They meet worldwide emissions standards and feature a smooth and quiet ride that has been tested for optimal durability in real-world conditions. The E-Tec also features better fuel economy, a NASA-developed piston that is 2.5 times stronger than the competition and easier starting.
To go with our full line of Evinrude and Johnson, we are also authorized for Mercury and MerCruiser. If you want to stay on the water longer in Pompano Beach, Broward County, Boca Raton, or Fort Lauderdale, FL, then come into Reel Loco Marine Sales & Service, Inc. at 1132 N.E. 48th Street in Pompano Beach, Florida, and buy from the best dealers around.
Contact us at [email protected] today about our new and used outboard motors, boat repair services, and boat sales!